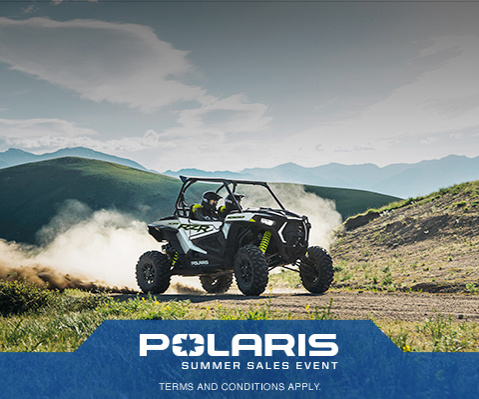 See Our Featured RZR Offers
Find rebates and financing offers on RZR side by sides during the Polaris Summer Sales Event. Get the best deals and coupons on RZR parts, apparel and accessories.
Buscar ofertas especiales
Abrir diálogo
Offers vary by model. Financing available on 2016 – 2021 new and unregistered Polaris® RZR®, RANGER®, Sportsman®, GENERAL®, and ACE® models purchased between 6/1/2021 – 7/31/2021. †Rates as low as 3.99% APR for 36 months. Examples of monthly payments required over a 36 month term at a 3.99% APR rate: $29.52 per $1,000 financed; and with a 60-month term at a 6.99% APR rate: $19.80 per $1,000 financed. An example of a monthly payment with $0 down, no rebate, an APR of 3.99% APR for 36 months at an MSRP of $12,699 is $374.87/mo. total cost of borrowing of $796.27 with a total obligation of $13,495.27. Down payment may be required. Other financing offers may be available. See your local dealer for details. Minimum Amount Financed $1,500; Maximum Amount Financed $50,000. Other qualifications and restrictions may apply. Financing promotions void where prohibited. Tax, title, license, and registration are separate and may not be financed. Promotion may be modified or discontinued without notice at any time in Polaris' sole discretion. WARNING: Polaris® off road vehicles can be hazardous to operate and are not intended for on-road use. Driver must be at least 16 years old with a valid driver's license to operate. Passengers, if permitted, must be at least 12 years old. All riders should always wear helmets, eye protection, and protective clothing. Always use seat belts and cab nets or doors (as equipped). Never engage in stunt driving and avoid excessive speeds and sharp turns. Riding and alcohol/drugs don't mix. All riders should take a safety training course. Call 800-342-3764 for additional information. Check local laws before riding on trails. ©2019 Polaris Industries Inc.
AG ADVANTAGE:
Restrictions: This offer is valid through July 31, 2021. Valid on any new and unregistered 2021 RANGER, GENERAL SPORTSMAN, and SCRAMBLER models. RZR, Phoenix and youth models are not valid. Only RANGER models qualify for the extra one-year warranty. Extra one-year warranty isn't valid on RANGER EV and High Lifter Edition models. This offer cannot be combined with Polaris National Sales Event offers and is not stackable with other exclusive coupon offers.
Dealer Redemption: To process, log on to your Polaris Dealer Website. Select the Summer Sales Event rebate on the promotion selection page during the registration process. Then log in to the coupon redemption portal and proceed with the documentation submission process. Upload the original bill of sale receipt that indicates the discount was issued at the time of purchase with all applicable pricing and product descriptions highlighted. Upload proper documentation indicating operation has been registered with the state and government such as a registered farm site member, state tax exempt form, co-op membership or other supporting documentation. Name on documentation must match the name on the bill of sale. Once proper documentation is uploaded and approved, Polaris will payout the remaining difference between the Summer Sales Event rebate and the Ag Advantage rebate. If proper documentation is not provided Polaris will not payout the remaining difference. All offer redemptions must be submitted online within 5 days after sale of vehicle or earlier. All redemptions will be credited to the dealer's parts account.
HEROES ADVANTAGE:
Restrictions: This offer is valid through July 31, 2021. Valid on any new and unregistered 2021 RANGER, RZR, Sportsman and General models. Youth models are not valid. Only RANGER models qualify for the extra one-year warranty. Extra one-year warranty isn't valid on RANGER EV and High Lifter Edition models. This offer is not applicable in Canada. This offer cannot be combined with Polaris National Sales Event offers and is not stackable with other exclusive coupon offers.
Dealer Redemption: To process, log on to your Polaris Dealer Website. Select the Summer Sales Event rebate on the promotion selection page during the registration process. Customers can access the offer by logging onto https://offroad.polaris.com/en-us/heroes-advantage/. Once the customer is verified they will receive a confirmation email. The dealer will need to login to the coupon redemption site, enter in the coupon code and upload a picture of the customer verification email and bill of sale. Also upload a scanned copy of the customer military verification page from the verification website. Name on documentation must match the name on the bill of sale. Once proper documentation is uploaded and approved, Polaris will payout the remaining difference between the Summer Sales Event rebate and the Heroes Advantage rebate. If proper documentation is not provided Polaris will not payout the remaining difference. All offer redemptions must be submitted online within 5 days after sale of vehicle or earlier. All redemptions will be credited to the dealer's parts account