RZR Trail S 900 Sport White Lightning Specifications
Find specifications below for the 2023 Polaris RZR Trail S 900 Sport White Lightning Side by Side. Specs include ground clearance, wheelbase, box capacity, cargo system, engine braking system, instrumentation, lighting, turning radius, travel, horsepower, engine, seat type and suspension.
Motor y tren de potencia
Desplazamiento de cilindros
875 cc
Sistema de combustible/batería
Inyección electrónica de combustible
Sistema de frenado de motor (EBS)
No está equipado
Sistema motriz
Tracción real AWD/2WD seleccionable bajo demanda
Tipo de motor
Cilindro doble con doble árbol de levas en la cabeza de 4 tiempos
Transmisión/diferencial
PVT P/R/N/L/H automático
Dimensiones
Altura libre desde el suelo
31.8 cm (12.5 in)
Capacidad de carga útil
336 kg (740 lb)
Capacidad de combustible
35.9 l (9.5 gal)
Capacidad de la caja
136 kg (300 lb)
Clasificación de remolque del enganche
680 kg (1,500 lb)
Dimensiones de la caja de la plataforma (largo x ancho x alto)
52.5 x 94 x 20 cm (20.7 x 37 x 7.9 in)
Distancia entre ejes
200.7 cm (79 in)
Peso seco estimado
582 kg (1,283 lb)
Tamaño del vehículo general (largo x ancho x alto)
282 x 152.4 x 176 cm (110.9 x 60 x 69.3 in)
Frenos
Freno de estacionamiento
Transmisión de estacionamiento
Frenos delanteros/traseros
Disco hidráulico en las cuatro ruedas con cálipers delanteros y traseros con cilindros maestros dobles
Especificaciones adicionales
Dirección hidráulica electrónica
No
Iluminación
Luces de halógeno bajas de 55 W/altas de 60 W y luz LED roja trasera/luz de frenos
Instrumentation
Dual-sweep Analog Dials w/ 4" LCD Rider Information Center: User Selectable Blue/Red Backlighting & Brightness, Programmable Service Intervals, Speedometer, Tachometer, Odometer, Tripmeter, Clock, Hour Meter, Gear Indicator, Fuel Gauge, Coolant Temperature, Voltmeter, Service Indicator and Codes, Seat Belt Reminder Light, Gear Indicator, DC Outlet + 12V Power Plug.
Other Standard Features
Adjustable Tilt Steering, Near Field Communication Technology
Puertas
Puertas completas
Sistema de carga
Lock & Ride®
Tipo de asiento
Asientos de butaca reforzados con control deslizante de asiento del conductor y del pasajero
Tipo de enganche
Amplificador estándar de 3.2 cm (1.25 in)
Llantas y ruedas
Llantas delanteras
27 x 9-12; Trailmaster A/T
Llantas traseras
27 x 11-12; Trailmaster A/T
Suspensión
Amortiguadores delanteros
FOX 2.0 Podium
Amortiguadores traseros
FOX 2.0 Podium
Sistema de control de suspensión electrónico
No está equipado
Suspensión frontal
Brazo en A doble con barra estabilizadora y recorrido de 31.1 cm (12.25 in)
Suspensión trasera
Doble brazo en A con barra estabilizadora y recorrido de 33.5 cm (13.2 in)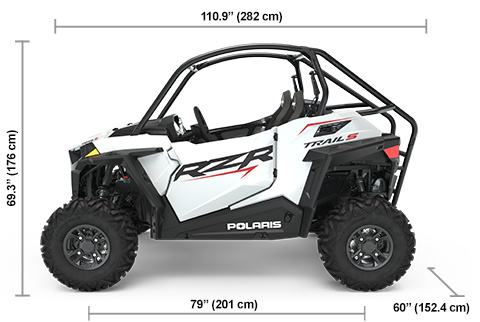 *El recorrido útil se mide, con el vehículo en caída total, desde la parte inferior de la llanta hasta la parte inferior de la placa protectora.
**Availability of some equipment, options and/or features, including Wi-Fi connectivity on RIDE COMMAND models, may be limited or not available due to global supply issues affecting our industry. Please continue to build your vehicle and request local dealer price but be sure to work with your local Polaris dealer to ensure the vehicle you purchase includes all expected features and equipment.

All pricing, specifications, claims, and information contained on this website are based upon current knowledge available at time of publication and are subject to change without notice, and Polaris assumes no responsibility for changes in pricing or specifications. Polaris assumes no responsibility for any inaccuracies, opinions, or omissions on this website. ©2022 Polaris Inc.


*Not all colors shown are offered at this time. Please check trim & color options for available colors.