KNOW WHAT YOU'RE LOOKING FOR? FIND IT TODAY.
This 6" ground clearance will allow you to cruise over any terrain, including dirt, rocks, or dunes.
Parent-Adjustable Speed Limiter
Keep your kids safe by limiting their maximum speeds while still ensuring lots of fun.
The always-on headlights ensure clear visibility both for your young driver and others on the trail.
CUSTOMIZATION READY FOR THE OFF-ROAD
Made from reliable, durable, impact-resistant polycarbonate material, this windshield will give you protection for many rides to come. Lock & Ride technology makes installation simple and quick, all without the need for tools.
This rugged brush guard adds a sporty look and excellent front protection from brush, low-hanging branches and trail debris. It features a durable 1 1/2 tube design, with a great-looking powder coat finish.
This Soft Top delivers great protection and value. Made of high-quality 600-denier solution-dyed polyester material, it is fade-resistant, strong and stable. This roof provides passengers and riders protection from the sun and most rain.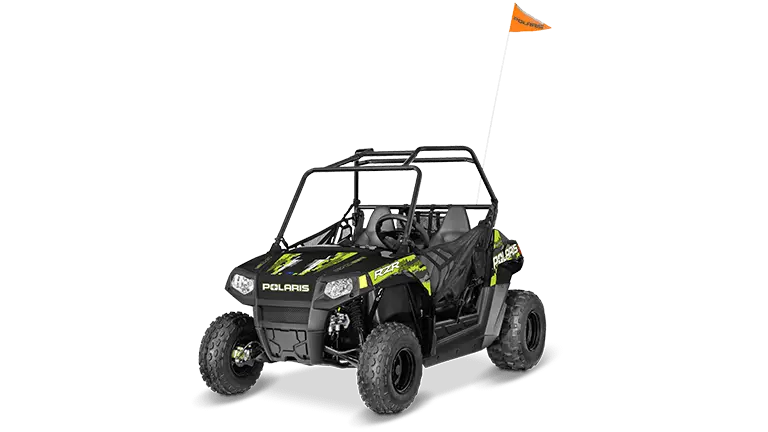 DESPLAZAMIENTO

169 cc

ANCHO DEL VEHÍCULO

1.21 m (48 in)

EDAD

Para los de 10 años en adelante
RZR 170 EFI
Desde
$5,299
Precio de venta sugerido por el fabricante en EE. UU.
Trim & Color Options
Lime Squeeze/Cruiser Black
Includes:
Ages 10+
Electronic Fuel Injection
Parent-Adjustable Speed Limiting
Seat Belt & Safety Nets
Protective Cage
Tilt Steering
Adjustable Seat
Comes Standard with 2 Youth Helmets and Training DVD
Polaris GENERAL 1000 Gallery
( / )
Todos los precios, las especificaciones, las reclamaciones y la información contenida en este sitio web se basan en el conocimiento actual disponible al momento de la publicación y están sujetos a cambios sin previo aviso, y Polaris no asume ninguna responsabilidad por cambios en los precios o las especificaciones. Polaris no asume ninguna responsabilidad por cualquier inexactitud, opiniones u omisiones en este sitio web. ©2020 Polaris Inc.