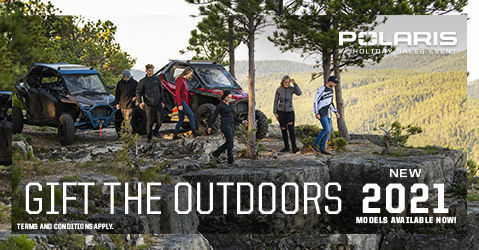 Holiday Sales Event RZR Offers Near You
Find Special Offers
Open Dialog
$100 OFF when you spend $1000+ on all parts, accessories, riding gear,
and clothing now through 12/31.


Save $20 OFF $100, or $50 OFF $250 on select riding gear, clothing, branded merchandise and oil/lubricants. Now through 12/31.
Offers vary by model. Rebates available on 2020 models and financing available on 2016 – 2021 new and unregistered Polaris® RZR®, RANGER®, Sportsman®, GENERAL®, and ACE® models purchased between 11/1/20‑ 12/31/20. †Rates as low as 3.99% APR for 36 months. Examples of monthly payments required over a 36‑month term at a 3.99% APR rate: $29.52 per $1,000 financed; and with a 60-month term at a 6.99% APR rate: $19.80 per $1,000 financed. An example of a monthly payment with $0 down, no rebate, an APR of 3.99% APR for 36 months at an MSRP of $12,699 is $374.87/mo. total cost of borrowing of $796.27 with a total obligation of $13,495.27. Down payment may be required. Other financing offers may be available. See your local dealer for details. Minimum Amount Financed $1,500; Maximum Amount Financed $50,000. Other qualifications and restrictions may apply. Financing promotions void where prohibited. Tax, title, license, and registration are separate and may not be financed. Promotion may be modified or discontinued without notice at any time in Polaris' sole discretion. WARNING: Polaris® off‑road vehicles can be hazardous to operate and are not intended for on-road use. Driver must be at least 16 years old with a valid driver's license to operate. Passengers, if permitted, must be at least 12 years old. All riders should always wear helmets, eye protection, and protective clothing. Always use seat belts and cab nets or doors (as equipped). Never engage in stunt driving and avoid excessive speeds and sharp turns. Riding and alcohol/drugs don't mix. All riders should take a safety training course. Call 800-342-3764 for additional information. Check local laws before riding on trails. ©2020 Polaris Industries Inc.
Holiday Sales Event - Gift The Outdoors
RESTRICTIONS: OFFER VALID FROM NOVEMBER 1– DECEMBER 31, 2020. PURCHASE $1,000 WORTH OF POLARIS ORV and SNOW PG&A ITEMS AND RECEIVE $100 (US OR CANADIAN DOLLAR) OFF or PURCHASE $100 (US OR CANADIAN DOLLAR) WORTH OF POLARIS® APPAREL, GENERAL MERCHANDISE OR OIL ITEMS AND RECEIVE $20 (US OR CANADIAN DOLLAR) OFF. PURCHASE $250 (US OR CANADIAN DOLLAR) WORTH OF POLARIS® APPAREL, GENERAL MERCH OR OIL ITEMS AND RECEIVE $50 (US OR CANADIAN DOLLAR) OFF. ONLY ONE (1) COUPON PER CUSTOMER CAN BE SUBMITTED. MAXIMUM COUPON VALUE OF $100 (US OR CANADIAN DOLLAR). Holiday Sales Event offers cannot be stacked with other coupon offers. Limit 1 Offer Per Customer.
OFFER IS VALID ON POLARIS.COM AND IS ONLY VALID IN AUTHORIZED POLARIS DEALERSHIPS AND RETAIL STORES FOR POLARIS BRANDED ACCESSORIES, PARTS, LUBRICANTS, APPAREL, GARAGE AND OTHER NON-WHOLEGOOD PRODUCTS (COLLECTIVELY, "PG&A") OFFERED IN THE 2021 POLARIS OFF-ROAD APPAREL AND ACCESSORIES CATALOG, 2021 POLARIS SNOW CATALOG, AND POLARIS.COM. FOR PURPOSES OF THIS OFFER, PG&A SPECIFICALLY INCLUDES THE FOLLOWING BRANDS: POLARIS, RANGER, POLARIS GENERAL, RZR, SPORTSMAN, POLARIS ACE, POLARIS NORTHSTAR COOLERS, ALL KOLPIN (BOTH POLARIS & KOLPIN PART NUMBERS), ALL PRO ARMOR (BOTH POLARIS & PRO ARMOR PART NUMBERS), TRAIL TECH (ALL PART NUMBERS), AND SNOW/TIMBERSLED. Not valid on any Timbersled snowbike system. POLARIS POWER GENERATORS ARE ONLY INCLUDED IN THE $100 OFF $1000 OFFER. OFFER MAY NOT BE COMBINED WITH ANY OTHER COUPONS, DISCOUNTS, OFFERS OR PROMOTIONS. THIS OFFER IS NOT REDEEMABLE FOR CASH OR GIFT CARD Polaris, its dealers and their respective employees are not eligible for the discount. Not valid on non-Polaris products or qualified purchases before NOVEMBER 1 or after DECEMBER 31, 2020. OFFER SUBJECT TO AVAILABILITY WHILE SUPPLIES LAST. THIS OFFER MAY BE DISCONTINUED OR MODIFIED AT ANY TIME BY POLARIS. OFFER AVAILABLE ONLY IN THE U.S. AND CANADA. VOID WHERE PROHIBITED OR OTHERWISE RESTRICTED. RETURNS OF ANY PORTION OF THE PURCHASE WILL REQUIRE EQUAL FORFEITURE OF OFFER OR AMOUNT EQUAL TO OFFER. APPLICABLE TAX, SHIPPING AND HANDLING DO NOT QUALIFY FOR DISCOUNT. BY SUBMITTING THIS COUPON WITH YOUR NAME AND EMAIL, YOU AUTHORIZE AND CONSENT TO POLARIS INDUSTRIES INC., ITS AFFILIATES AND SUBSIDIARIES (COLLECTIVELY, "POLARIS") AND/OR ITS AUTHORIZED DEALERS CONTACTING YOU VIA PHONE, EMAIL, DIRECT MAIL AND OTHER FORMS OF COMMUNICATION ABOUT POLARIS, ITS PRODUCTS, OFFERS, OR MARKETING MATERIALS.
DEALER INSTRUCTIONS: THIS IS A POLARIS OEM COUPON. FOR REIMBURSEMENT LOG ON TO YOUR POLARIS DEALER WEBSITE THEN GO TO DEALER MANAGEMENT ON THE BLUE TOOL BAR AND CLICK COUPON REDEMPTION TO LOG-IN AND PROCEED WITH THE SUBMITTAL PROCESS. SCAN THIS COUPON ALONG WITH THE ORIGINAL SALES SLIP (RECEIPT OF PURCHASE) THAT INDICATES THE DISCOUNT WAS ISSUED AT TIME OF PURCHASE, INCLUDING ALL APPLICABLE PART NUMBERS AND PRODUCT DESCRIPTIONS. DEALER MUST CHECK THE BOX ON WHICH OFFER WAS USED AND HIGHLIGHT CORRESPONDING ITEMS ON THE ORIGINAL SALES SLIP (RECEIPT OF PURCHASE). ALL REDEMPTIONS MUST BE SUBMITTED ENTERED BY JANUARY 15, 2021 OR EARLIER. INCOMPLETE REDEMPTIONS WILL NOT BE CREDITED AND CREDIT AMOUNT GIVEN WILL NOT EXCEED AMOUNT GIVEN TO CUSTOMER. ALL REDEMPTIONS WILL BE CHARGED TO DEALER PARTS ACCOUNT. FOR A LIST OF INCLUDED PART NUMBERS, PLEASE LOG-IN TO YOUR POLARIS DEALER WEBSITE, THEN GO TO "NEWS, FORMS, & LINKS" UNDER THE QUICK LINKS HEADER. SELECT PG&A TO VIEW "2020 HOLIDAY SALES EVENT QUALIFYING PART NUMBERS".
Polaris recommends that all riders take a safety training course. Do not attempt maneuvers beyond your capability. Always wear a helmet and other safety apparel. Read, understand and follow your owner's manual. Never drink and ride. All trademarks NOTED here are owned by Polaris. © 2020 Polaris Industries Inc.