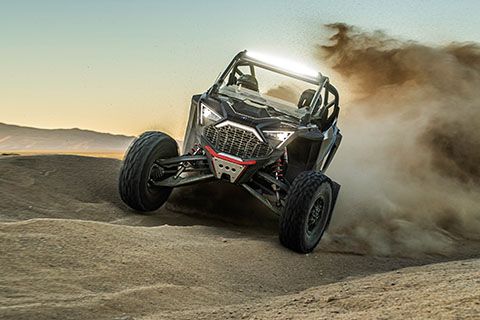 Revolutionary Power. Incredible Strength.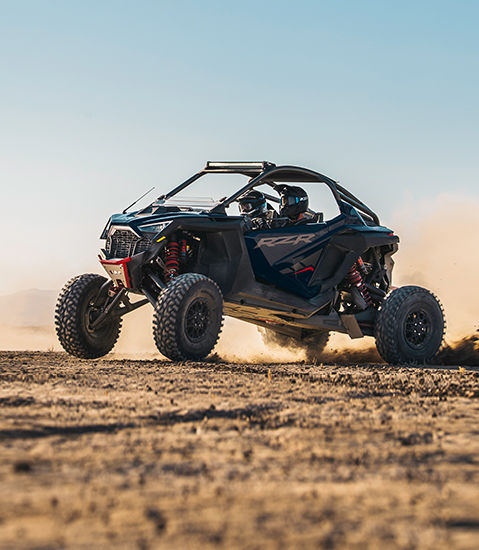 Built for the most demanding drivers, RZR Pro R leads the way in power, strength and control. It puts you in charge of the biggest factory engine ever dropped into a side-by-side and gives you the confidence and control to make the most of it.
Rewriting the rules of side-by-side performance isn't about making one thing better, it's about challenging everything. When you take the wheel of RZR Pro R, you're literally surrounded by off-road innovation.
The industry's first 2.0L engine is a naturally-aspirated beast that delivers an astounding 225 horses of ultra-responsive power.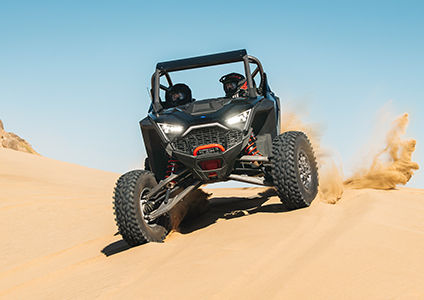 With a welded one-piece cage, solid box chassis, stronger driveline and the biggest belt we've ever made, RZR Pro R is made for the toughest terrain.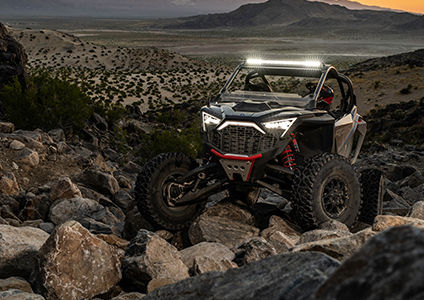 From the innovative geometry up front to the massive 29" of usable travel in back, the all-new MaxLink suspension puts you in total control.

Instant Throttle Response
All-New Throttle Control Modes
The desert delivers a pounding. RZR Pro R is made to take it. It's got the strongest cage and stoutest chassis ever found on a RZR. A strengthened driveline and stamped steel A-arms are strategically reinforced where it matters most.
All-New MaxLink Suspension
When you set out to tame the desert, it helps to have the strongest, smartest suspension ever developed by Polaris. Stamped steel construction, innovative geometry and a massive 29" of useable travel all work together for unprecedented confidence and control.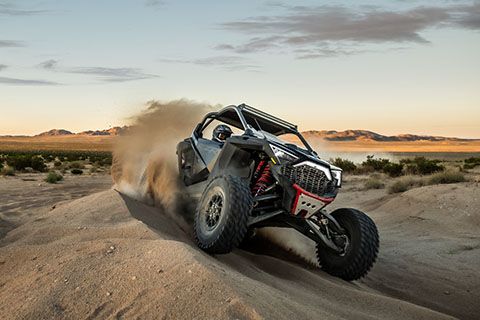 The Most Advanced Suspension Control
DYNAMIX DV is the next generation of the off-road's most advanced suspension control ever developed by Polaris. Gathering data over 200 times per second and automatically adjusting each shock to firmly planted. It's the only system smart enough to independently control compression and rebound and offers a more optimized ride and handling modes so you can change on the fly.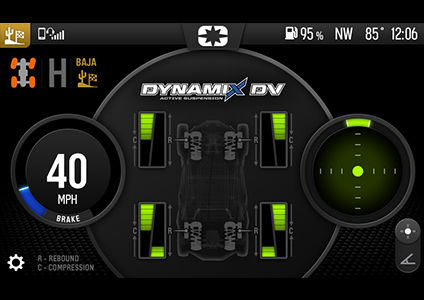 Coming up on gnarly whoops run? Use Baja mode to get a true trophy truck feel, with high dynamic ride height, increased shock isolation, and a nose-high pitch to help you float from crest to crest. It's the perfect set-up for when you want to hit it hard on the toughest terrain.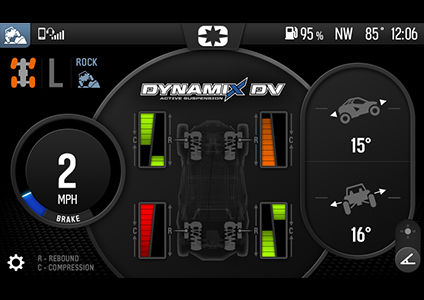 When it's time to crawl, Rock mode gives you the clearance and control to tackle the steep and deep. High compression damping maximizes ride height while low-speed angle damping improves pitch and roll stability, making sure RZR Pro R is always leaning into whatever you're trying to get up or over.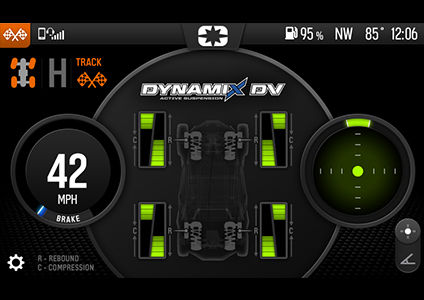 Power steering is set for increased steering input providing you with an immediate connection to the terrain, while the low flat stance is perfectly set up for twisty trails & desert hardpack.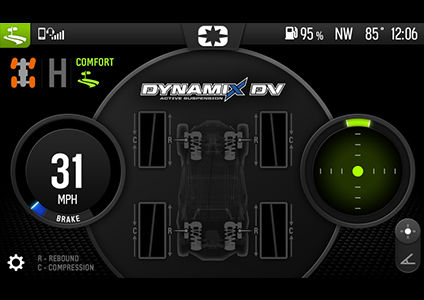 If you're touring with the family or sightseeing with friends, then you want the ultra-plush ride of Comfort mode. It lowers compression and rebound damping to maximize passenger comfort and turns up the power assist for effortless steering when you're out for a cruise.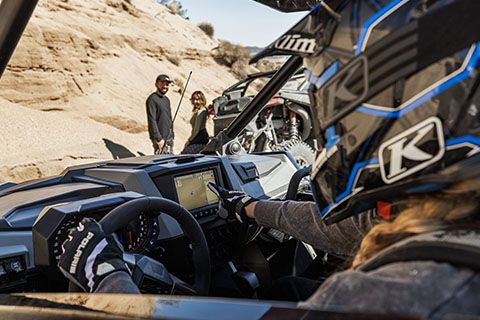 To drive like you mean it, you need everything right where it should be. Pro R lets you dial in your perfect driving position, from fully reclined to comfortably upright and the tilting, telescoping steering wheel is always exactly where you want it.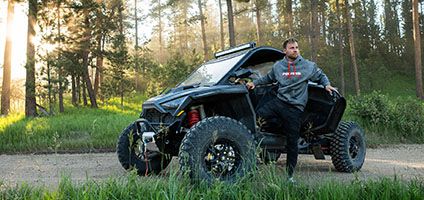 While there's nothing quite like being behind the wheel of RZR Pro R, sitting in any of the passenger seats is a close second. Whether you're behind the wheel or in the passenger seat, RZR Pro R has the roomiest cockpit in the industry with more legroom, more shoulder room and better sightlines.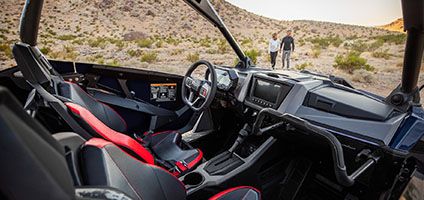 With 5.4 gallons of purposeful storage for the drivers and passengers so everyone can pack what you need and be ready for anything.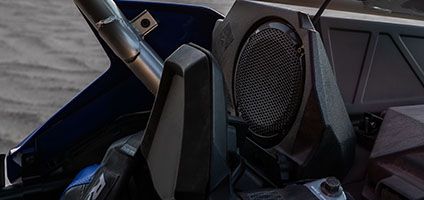 Every adventure deserves a soundtrack. Make sure everybody can hear yours with an exclusive Rockford Fosgate®, high-output sound system. It fills the cockpit with thumping sound that's perfectly tuned for off-road enjoyment.
Every adventure deserves a soundtrack. Make sure everybody can hear yours with an exclusive Rockford Fosgate®, high-output sound system. It fills the cockpit with thumping sound that's perfectly tuned for off-road enjoyment.
RZR PRO R VIRTUAL SHOWROOM
Step into the desert and check out the rider centric features and technology of the all-new RZR Pro R.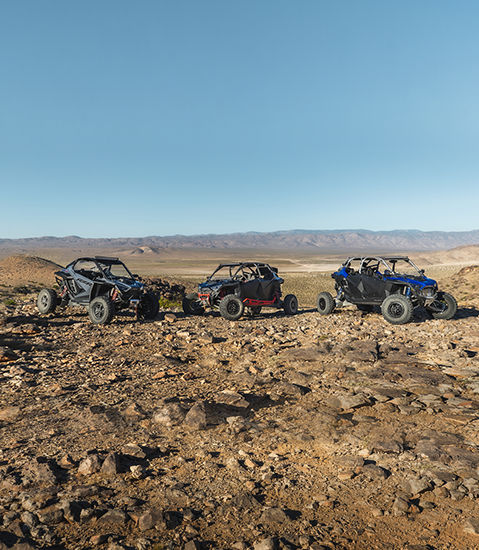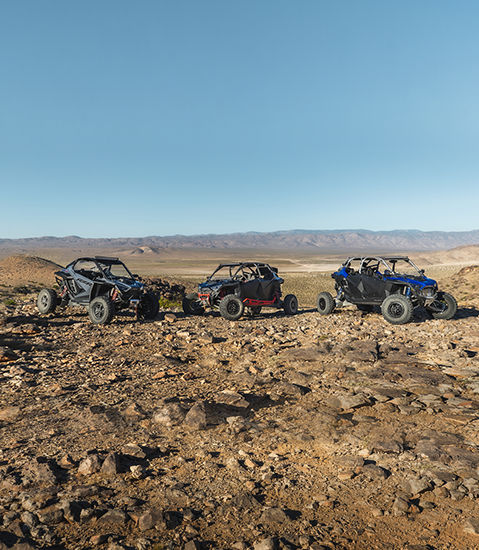 The finishing touches on any off-road vehicle are the things you add to make it your own. Take your pick from over 100 Polaris Engineered accessories like custom wheels and tires, full aluminum doors, and innovative storage solutions.
Create Your Dream RZR Pro R
Place your order on this highly anticipated RZR.
*Contact your dealer for more information on ordering and timelines.