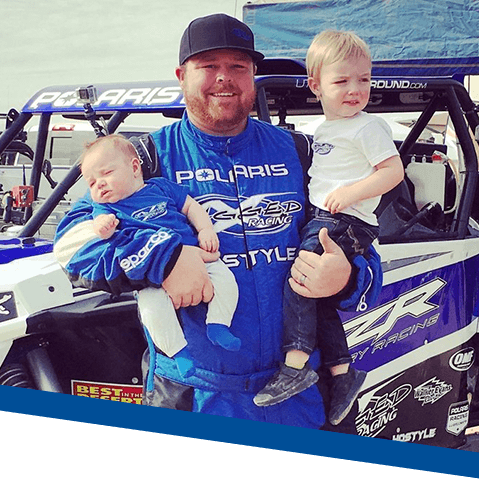 RACES: Best In The Desert / SCORE International
Note to Mom, if you leave the boys alone in the garage long enough, they'll get into the tools and start making some noise. For Brandon and his brother Justin, they did more than make some noise, their ability to modify just about anything and a passion for off-road eventually led to Jagged X. Considered by most as one of the foremost aftermarket shops in the industry, the Jagged X racing team was soon formed with Brandon leading the charge from the driver's seat. A native of Arizona, Brandon feels perfectly at home throttling down and gobbling up terrain at a ferocious pace behind the wheel of his race prepped Polaris RZR. Racing plays an important role in product development at Jagged X and based on Brandon's results, it has been a successful one as well with over 50 podium finishes including 5 Best in the Desert Pro UTV Championships, a win at the 2011 King of the Hammers and 2015 SCORE Pro UTV Championship.
Desert racing is a family affair for Brandon Schueler and his Jagged X Racing team.